Construction progress can be tracked on this interactive map site, produced by CGL. The link below is external from noblogs and is a private corporations' site. It is likely that traffic is being monitored, so we recommend taking precautions like pasting the link into the TOR browser.
https://map.coastalgaslink.com/
Updates are up to one month behind – don't rely on this map as a scouting tool, or for timing where timing is essential to the success of an action.
As of October 2020, peak construction is happening and the Wedzin Kwah – and other waters – are at risk. The Wet'suwet'en have had their hunting territories diminished and their season for sustenance destroyed. Animal habitation and travel patterns have been altered dramatically.
Notably, the pipe storage yards are filling up including the one closest to Wet'suwet'en territories.
The time to stop this project is now.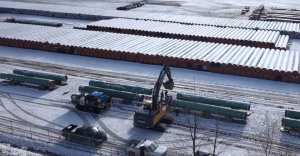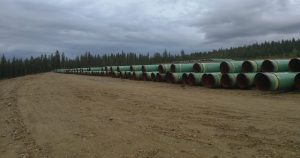 The pipes are very large.
Man camps continue to be cleared and built, and right of ways cut.