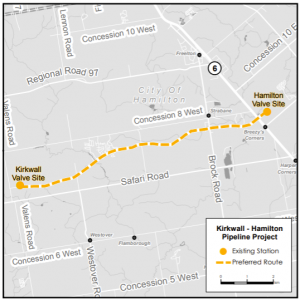 Update as of October 2020:
After initial resistance and archaeological assessments, Enbridge has withdrawn their application to the OEB temporarily. They will re-evalutate the project in the spring of 2021.
Enbridge's Dawn Parkway Expansion project is proposal for the installation of a 48″ diametre fracked gas pipe to run for 10.2 kilometres through rural Hamilton. They aim to begin construction in early 2021.
Enbridge's proposed pipeline route stretches between Valens Road and east of Highway 6 between Safari Road and Concession 8 through the heart of the Beverly Swamp, a designated a Class 1 provincial wetland and an environmentally significant area. Their proposal is for the shortest, most destructive pipeline in so-called southern ontario. Crossing three watersheds, it will require a 28 metre wide swath of forest and swamp to be clearcut, drained and destroyed, and a 2.5 metre trench to be excavated by hoe-rams and blasted with explosives.
In addition to local impacts and serious risks, this new line is intended to be used as a workaround to fracking moratoriums in the U.S. The consequences of fracking are so significant that it was recently determined fracked gas can be as or more destructive to our environment and atmosphere than burning coal. Fracking involves injecting high-pressure water, sand, and proprietary chemicals to fracture the earth and release gas. The process has been shown to disrupt ecosystems, cause earthquakes, destroy bedrock, and poison ground & surface water.
An Excerpt from a communique; (Un)staking Their Claim
As the deep yellow moon rose we moved deeper into the swamp, past the sweet smells of lilacs and greens and rich earth. Lulled by the moonlight and our headlamps reflecting on the pale survey stakes against the surrounding darkness that marked out Enbridge's proposed new gas pipeline in Flamborough. One by one we pulled nearly 10 kilometres of stakes, tossing them to the side to be reclaimed by the bush.

Shoulder high ferns, giant beetles, yipping coyotes & singing frogs were just some of the other beauty the swamp had to offer us that evening.

Splitting into small teams and armed with headlamps and hiking boots we traversed nearly the entire length of the proposed gas pipeline, aiming to cost Enbridge time, money, and send a message: We will resist this pipeline. It will not be built.