The Coastal Gas Link project is a 670km natural gas pipeline currently under construction that stretches from Dawson Creek to Kitimat through unceded lands. The pipeline will feed a liquefaction gas factory in Kitimat, owned by LNG Canada, who will export it. LNG Canada is an energy project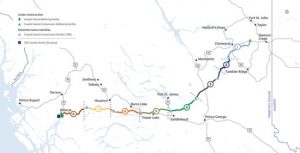 partnership of which Royal Dutch Shell is a majority partner – and is responsible for the project;s inception. The LNG Canada export facility is being developed by a joint venture company formed by Shell, Petronas, PetroChina, Mitsubishi and KOGAS.
The CGL project in it's whole is destructive, including extensive use of rock blasting, clear cutting of old growth forests, alterations of watercourses, displacement of wildlife, and the destruction of medicinal areas and traditional Indigenous areas.
The project does not have the consent of traditional hereditary leadership structures throughout the 20 unceded First Nations territories it crosses. Notably, the hereditary Wet'suwet'en leadership has indicated they will not allow the destruction of their territory and homelands – by CGL, or any other pipeline company.
The CGL project stands as a test case for whether the colonial government and policing systems will be able to force enough violence against Indigenous people and their supporters to complete the installation of the pipeline in its entirety.