sourced from https://www.oilandwaterdontmix.org/
E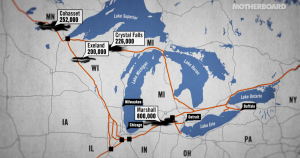 very day, nearly 23 million gallons of oil flow through two aging pipelines in the heart of the Great Lakes, just west of the Mackinac Bridge crossing one of the most ecologically sensitive areas in the world. Constructed in 1953, the two 20-inch-in-diameter "Line 5" pipelines owned by Canadian company Enbridge, Inc., lie exposed in the water at the bottom when they cross the Straits of Mackinac.
Enbridge's pipelines, which run about 1,000 feet apart at depths ranging from 100 – 270 feet, have laid on the bottom of the Straits for more than six decades. Today, much of the oil flowing through the Line 5 pipelines (90 to 95% of it) is coming from Canada and taking a shortcut through Michigan and the Straits of Mackinac before crossing back into Canada near Port Huron.
Line 5 has spilled 33 times and at least 1.1 million gallons along its length since 1968.
As of Oct 15th, 2020,
Enbridge Inc.
has completed about 90% of initial design work on its 4.5-mile Great Lakes Tunnel under the Straits of Mackinac in Michigan. The tunnel will house its 540,000-b/d Line 5 liquids pipeline. T
he company expects to begin tunnel construction in 2021 for 2024 completion.